Inflatable amusements (often called "Bounce Houses") are now a common site at birthday parties, fundraising events, and schools. While they can be fun for kids, teens, and even adults, they must be properly installed and anchored to prevent serious injuries and even death.
Over the last 20 years, "bounce house" injuries and deaths have been reported throughout the United States and around the world, often as a result of wind gusts that lift the inflatable into the air, throwing those on the inflatable to the ground.
An incident of this type of accident recently occurred in Zillah, WA
Just this week, an inflatable was lifted by a wind gust at a high school in Zillah, Washington, resulting in serious, life threatening injuries to students.
Read the CNN article on that details the Bounce House accident in Zillah, which includes a video of the actual event:

https://www.cnn.com/2019/05/02/us/bounce-house-accident-injuries-trnd/index.html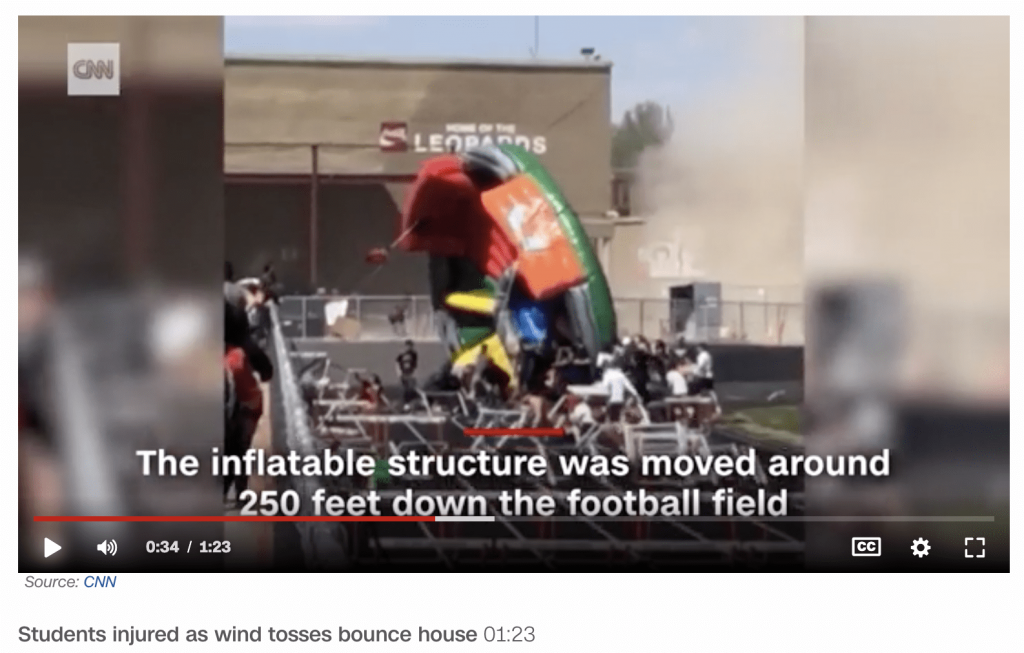 This issue was concerning enough to the American Society of Testing and Measurements (an organization that sets international safety standards for materials, products, systems, and services), that it issued a revised ASTM standard in 2018, which specifically addressed anchoring issues for inflatables.
According to the ASTM, the revisions to the standard address key risk areas for inflatables, including:

New requirements for designs of anchoring systems that help keep inflatables grounded;

Use of impact attenuation materials at the entrance and exit area to help mitigate risks associated with falls; and,

An expanded section on operations to emphasize having trained attendants supervise while patrons are using them.

It is imperative that organizations adhere to these safety standards when setting up inflatable amusements so as to keep children safe and also avoid liability for the injuries caused if the inflatable is not properly anchored.