Construction is a dangerous business. The work site is a fast-paced and evolving landscape containing numerous potential hazards. Construction workers can find themselves in stressful and high-pressure situations where one mistake can result in a traumatic accident. The U.S. Bureau of Labor Statistics estimates in 2020, more than 1 in 5 workplace deaths happened within the construction industry.
At Tamaki Law, our legal team understands the complexities surrounding construction site accidents. If you are injured at a construction site, you may have several legal options for recovering compensation open to you. However, fighting for the money you deserve on your own can be challenging.
If you've been hurt at a construction site, whether you are a worker or a passerby, you need to consult with an experienced Bellevue personal injury lawyer. An attorney can advocate for you, protecting your rights and helping you navigate the legal system. At Tamaki Law, our diverse legal team has amassed over 100 years of legal experience. Call our Bellevue office at (425) 679-6421 for a free and confidential case evaluation.
The Big Three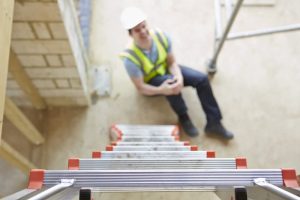 Construction accidents happen for multiple reasons. However, three events, in particular, make up most construction site accidents. These common accident causes are sometimes known as the "big three." The big three include:
Falls – Falls and slip-and-fall accidents are the leading cause of work-related deaths in the construction industry, according to data from the Centers for Disease Control and Prevention. In 2019, 36.4 percent of construction site fatalities were attributed to falls. Unsafe ladders and scaffolding, tripping hazards, and lack of safety equipment are common problems at construction sites.
Struck-by-an object – Construction sites contain a variety of vehicles, equipment, and machinery. Being struck by an object is also a common occurrence in construction zones. These accidents can cause significant injury and death. Falling tools, suspended loads, careless forklift drivers, and power tools that eject flying materials can all cause life-altering injuries.
Electrocution – Electrocution injuries occur when the body is exposed to powerful electrical energy. The cause of most construction site electrocution accidents includes downed power lines, defective equipment, or improperly labeled live wires.
Other causes of construction site injuries include:
Being crushed by an object or machine
Exposure to toxic materials
Mechanical hazards
Careless driving
Explosions
Defective equipment
Poor safety precautions or lack of safety equipment
Poor training procedures
A construction site may seem inherently dangerous. However, it is still the responsibility of site owners, third-party contractors, and construction company owners to maintain a safe work site free from hazards. The construction company is also responsible for equipping and training its employees to help prevent accidents from occurring onsite.
Common Construction Accident Injuries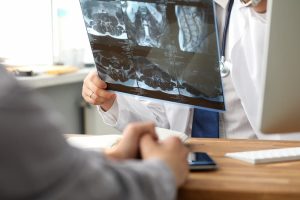 Construction accident injuries can be traumatic and life-altering. Many construction accident injuries lead to painful and debilitating physical issues. An injury can also stall your career and jeopardize your financial stability if you are hurt significantly enough that you can't return to work. Common injuries that occur at construction sites can include:
Neck and spinal injuries
Paralysis
Eye injuries or blindness
Amputation
Broken bones
Organ damage
Internal bleeding
Chemical burns
Thermal burns
Lacerations
Contusions
Crushing injuries
Additionally, some construction sites expose workers to toxic materials. Solvents, pesticides, insulation materials, glues, and paints can potentially contain significant concentrations of hazardous chemicals. Exposure to toxins like lead, asbestos, formaldehyde, mercury, and arsenic can cause chronic and life-threatening medical conditions like cancer.
Debilitating construction injuries can also trigger mental health conditions such as depression and anxiety.
Compensation Following a Construction Accident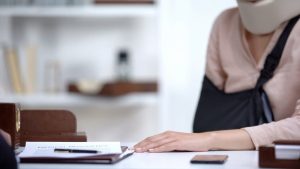 Seeking compensation following a construction accident can be challenging. You need to understand what options are available, but tracking down the benefits you are entitled to receive can be difficult after a significant injury.
If you are an employee and are injured on the job, you may be able to file for worker's compensation benefits. Worker's compensation is a type of insurance program. It provides financial benefits to injured workers to help them recover. State law requires most Washington employers to carry worker's compensation coverage. Regardless of who is at fault for causing the accident, an employee can file for worker's compensation benefits and recover money to pay for their medical expenses. They may also earn a portion of their regular wages. Depending on the severity of the injury, worker's compensation may also provide wage replacement benefits (time-loss compensation).
Construction workers who accept worker's compensation benefits forfeit the ability to sue their employer following an accident. In some cases, an injured worker may legally hold a third-party liable by filing a personal injury lawsuit against the careless entity. Third parties who may be responsible for causing a significant construction accident include:
Contractors
Subcontractors
Architect
Parts or equipment manufacturers
If the careless actions of a third-party result in a constriction site accident, the third party may be held accountable in court. To seek compensation through a personal injury lawsuit, you should discuss your situation with a knowledgeable construction accident attorney.
Additionally, if you are an independent contractor, a passerby, or a visitor hurt at a construction site, you may be able to file a personal injury lawsuit seeking compensation for your injuries. Liable parties may include:
Construction company or site owner
Contractors
Parts or equipment manufacturers
The value of your claim can depend on several factors. You may be able to seek money for your financial losses, such as medical expenses, lost wages, and emotional distress. Talk to a skilled Bellevue personal injury attorney for a more comprehensive picture of your right to pursue compensation.
Request Your Free Legal Consultation Today
Have you been injured at a construction site? Put the power of an experienced Bellevue construction accident attorney to work for you. At Tamaki Law, our legal team will thoroughly review your situation and outline your options for recovering maximum compensation. We know a construction accident can reshape your life. Let us help you earn the money you and your family need to move forward.
Contact our Bellevue office today at (425) 679-6421 to request a free case evaluation.