Kennewick Construction Accident Lawyers
At Tamaki Law, we understand the toll being injured in a construction accident or on a construction site can have on your life and your livelihood. Fortunately, you could be eligible to receive worker's compensation benefits from your employer's policy or recover additional compensation through a third-party claim.
The Kennewick construction accident attorneys of Tamaki Law are committed to helping workers in our community seek the benefits they need and deserve. You shouldn't have to struggle physically and financially in the aftermath of a workplace accident. Let us help you recover the money you need to pay your bills, get the treatment you need, and move on with your life. Call us at (509) 783-8333 or contact us online for a free consultation to discuss how we could help.
Am I Eligible for Worker's Compensation After a Construction Accident?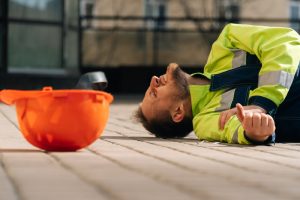 In the state of Washington, employers must carry workers' compensation insurance to cover their employees who are injured or become ill on the job. This means that your employer's workers' compensation insurance should cover your medical expenses and a portion of your lost wages if you've been hurt on a construction site or while traveling for work or performing job-related duties outside the workplace.
Workers' comp benefits will typically include:
Medical expenses
Wage replacement
Vocational rehabilitation
Death Benefits
Medical expenses are covered for necessary treatment, including medical treatment, surgeries, dental work, and hospital stays. Wage replacement is available to employees who cannot work due to a job-related injury or illness and is calculated based on a percentage of the employee's average weekly wage.
In exchange for workers' compensation coverage and benefits, employees cannot sue their employer after an accident. However, you could seek additional compensation if a third party caused the accident and your injuries.
What is a Third-Party Injury Claim?
Suppose someone other than your employer or co-worker causes an accident and injures you. In that case, you could potentially file a third-party claim against them and recover additional compensation on top of any worker's compensation benefits you're entitled to.
Examples of third parties that could be liable for construction accidents include:
Manufacturer of a defective piece of equipment
Owner of the property where the accident occurred
A subcontractor working on the job site
The company responsible for maintaining the equipment or machinery
Architect or engineer who designed a faulty structure
In Washington, the rules and laws regarding third-party injury claims are the same as any personal injury case. To recover compensation, you must prove that the third party was negligent or at fault for the accident and that the negligence caused your injury. Unlike the worker's compensation claim filed against your employer's policy and provides payment for treatment and some wages, a third-party claim could seek compensation for additional damages, like pain and suffering.
Causes of Construction Accidents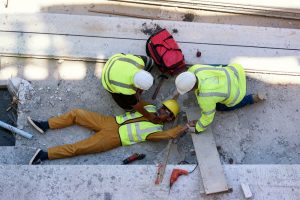 Construction sites are hazardous because of the heavy and hazardous equipment that is usually located on the site. Because of the dangerous nature of a construction site, the U.S. Occupational Safety and Health Administration (OSHA) requires employers such as primary contractors to obtain specific permits, conduct inspections, and implement safety programs to limit workplace accidents. The leading causes of construction accidents include:
Crane accidents
Harness accidents
Improper maintenance or use of equipment
Exposure to toxic substances
Failure to adhere to safety procedures
Misuse of construction tools
Falls from heights
Falling objects
Improper training
Failure to notify workers of safety hazards
Electrocution
Fires and explosions
The most common injuries suffered on construction sites include:
Broken bones
Lacerations
Burns
Amputations
Spinal cord injuries
Traumatic brain injuries
Sprains and strains
Crush injuries
Hearing loss and tinnitus
Respiratory and lung problems
Back and neck injuries
Knee and shoulder injuries
Exposure to harmful substances or environments
Repetitive stress injuries
Heat stroke and heat exhaustion
Slip, trip, and fall injuries
Why Should I Hire a Construction Accident Lawyer?
If you've been injured on the job in Kennewick, the last thing you want to do is navigate the tricky process of filing a worker's comp claim or third-party injury claim while also trying to recover from your injuries and get back to work. There are several reasons why hiring an experienced construction accident could significantly improve your chances of getting what you deserve. Some examples of how a construction lawyer could help include:
Handling your workers' compensation claim – Workers' compensation claims can be complex and time-consuming. A lawyer can help you understand the process and ensure that you receive the benefits you are entitled to, such as medical expenses and wage replacement benefits. A lawyer can also help you appeal a denied claim or negotiate a settlement if necessary.
Seeking compensation through a third-party claim – A lawyer can help you identify any third-party liable for your injuries and assist you in filing a separate claim against them. In these cases, you may be able to recover damages not covered by workers' compensation, such as pain and suffering. A lawyer can also help you gather evidence to support your claim and negotiate with the insurance company.
Filing a lawsuit, if necessary – If a settlement cannot be reached, an experienced trial lawyer like those at Tamaki Law could help by filing a lawsuit and representing you in a trial. Our team has the experience and knowledge of the legal system to build a strong case on your behalf and take it as far as necessary to get you what you're entitled to.
Contact a Kennewick Construction Accident Attorney
If you were injured or became ill on a construction site, contact an experienced Kennewick construction accident attorney of Tamaki Law for help. Our skilled and knowledgeable Kennewick personal injury attorneys will provide a free consultation to review your legal options. Contact us today by calling (509) 783-8333 today.