Several factors influence how long a personal injury case takes to settle in the state of Washington. The length of time can vary based on the facts of the accident, the complexity of the case, the number of defendants in the lawsuit, and the extent of your injuries.
Because there are many factors involved, there's no clear answer to the question. In some cases, you could settle in as little as a few weeks. In other cases, it can take a couple of years. One of the first steps you should take if you are involved in an accident that was not your fault is to hire a capable Washington personal injury lawyer.
You can take several steps to speed the negotiation process with the at-fault party's insurance company. These steps do not guarantee the process will run smoothly, but they do help.
What to Expect During a Personal Injury Case
We recommend that the first step our clients take is to seek medical attention as soon as possible. Your physician's records of your accident history and treatment will provide evidence that will be crucial to your case. Your medical records are a basis for establishing your injuries and calculating damages.
Next, your Washington personal injury attorney will begin investigating your case to gather the necessary evidence for the negotiation process. This includes your medical records and may include a police report, accident reconstruction, and witness statements.
The speed at which the insurance company responds to your communication plays a role in how quickly a settlement may be reached. After you submit a claim to the insurance company, they have ten business days to acknowledge that they received the claim.
They must then provide you the necessary instructions and reasonable assistance to meet their requirements. They must respond to any communication you send to them within ten working days. After you have provided proof of loss, the company has 15 working days to accept or deny your claim. If they require more time, they must notify you of this within 15 working days.
Each of these steps can take time and effort. When you work with an experienced personal injury attorney, they can negotiate with the insurance company and increase the potential you will reach a successful settlement.
What Is Needed to Prove My Case?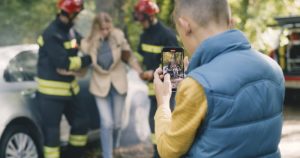 There are several types of evidence your personal injury attorney will gather to help prove your case. The claims process can go quicker when you provide the insurance company with enough information to decide.
In a personal injury case, you must prove negligence on the part of the defendant. This negligence must have caused your injuries and property damage. Examples of evidence that can help to prove negligence and provide corroboration include:
Images from the accident: Any images that can be gathered from the time of the accident can help prove your case. For example, pictures or videos taken by witnesses, pictures you may have taken, or tape from nearby surveillance cameras can be used as evidence.
Police report: In the case of motor vehicle accidents, these reports include details about the accident, including witnesses at the scene, a detailed drawing of what happened, and a detailed description of the accident.
Witness statements: If you were able to get the name and contact information of eyewitnesses, their testimony could be a great asset. Surveillance video or images may pick up pictures of witnesses whose contact information was not gathered at the scene.
Medical records and expenses: Your attorney will request copies of all Imaging taken after the accident, including MRIs, x-rays, and CT scans. Your medical records should include examination and treatment by your physician and any specialists you may have seen. Your attorney will want a record of any supplies you may have had to purchase to help care for your injury. This can include medications, crutches, or other medical supplies.
Lost Wages: It is also essential to document the amount of time you lost from work because of the accident. This helps to strengthen your case. A letter from your employer can help prove your time off work.
Contact Tamaki Law for Help with Your Personal Injury Case
If you were injured in an accident that was not your fault, it is crucial that you contact an experienced and skilled Washington personal injury attorney. The legal team at Tamaki Law has decades of combined experience with personal injury cases.
We believe that our results and client testimonials speak to the dedication and hard work we put into every case. Our attorneys work together as a team to raise the potential for success with each of our clients.
We are committed to correcting civil injustices. Call the office of Tamaki Law today at (800) 801-9564 for your free consultation. We'll listen to the details of your case and answer your questions.
Related Posts: